Looking at brain MRI recently, I could not help but notice how much snails and human brains have in common. Just look at him stuffed up in his bony fortress (image below), protected from the environment by a hard bone hat is the skull, his most precious info gathering tools are at hands reach - I'm talking about eyes, ears, arms, etc.
Both the brain and the snail are stuffed in a shell and are slimy. Sliminess could be afforded because of the hermetic skull /shell protection and is more comfort because body feels good in slime matter.
Differences?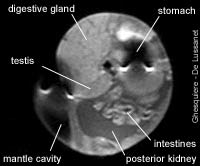 Not very much. One that crawls to mind is the ability of the snail to get out of it's 'home' when his shell gets broken or severely outdated. Brain, however, does not leave the safe place, he has made himself an inseparable part of the body/skeleton frame. In this perspective, snail is much more versatile even tho we claim human brain is way smarter. Local evolution follows this pattern: future species are more vulnerable but a lot more smarter to confront the elements directly. For example, snails have shells but this is all they got against blizzards, earthquakes or volcanoes. Human brain builds bunkers, have fire departments and arguably is facing problems directly rather than running away from them.
Conclusion: just think of the brain as the creature that it is you, because what you see in the mirror is just an outer protective shell that your brain is looking at. Also, when you look in a mirror, try to see through the eyes, where the brain resides, try to feel what it's like to be it. See if he turns his eyes away..